SCULPTURE SYMPOSIUMS International ideas take shape in Lebanon
By KATE THOMSON
Special to The Japan Times
Though the word "symposium" comes from Plato's ideal of a drinking party held to facilitate philosophical discussion, most of us are familiar with its modern usage, meaning a conference or meeting. Few people, however, know about the sculpture symposium movement, started by Karl Prantl in Austria in 1959.
In the Cold War environment in Europe, it was difficult for sculptors to make ambitious works and to meet each other to discuss ideas with their peers. So Prantl invited sculptors from both East and West to leave their studios for several weeks to work in a mutually supportive camp in a disused stone quarry in St. Margarethan, Austria. Participating artists took the idea back to their home countries, and international sculpture symposiums have been taking place all over the world ever since.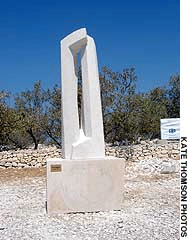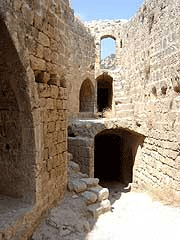 Kate Thomson's sculpture "Under the Same Sky" (top) and a portion of Moussalayha Castle in North Lebaqnon (above) and columns from Baalbek's Temple of Jupiter (below).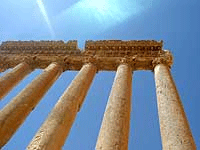 This year, my husband -- Japanese sculptor Hironori Katagiri (who everyone calls Kata) -- and I were both invited to take part in the Ninth Rachana International Sculpture Symposium, held in North Lebanon. We both have years of symposium experience: I have participated in gatherings in the United States, Austria, Scotland and Japan, both in projects where I made my own sculptures and in collaborative improvisations with artists of different nationalities.
Kata, who was for eight years the coordinator of the prestigious Lindabrunn Sculpture Symposium in Austria, has also organized and participated in many European and Japanese projects, and we are both on the organizing committee for the annual symposium in the city of Iwate.
Most of these symposiums involve participants carving monumental, site-specific pieces in granite over a period of two months, including a planning period of about two weeks. As Lebanese limestone is very soft and easy to work, and all artists sent in advance a sketch plan of the sculptures we wanted to make, with proportions for the required stone blocks, the Rachana symposium lasted just two weeks.
As neither Kata or I have worked in an Arab country before, we decided to head there a couple of days early in order to explore Lebanon's natural and cultural environment, and adapt our sculpture proposals accordingly. This is an abridged diary of our experience.
Day 1, Aug. 24:
After arriving in Lebanon late the previous night, we spend the day in Rachana, being shown round by the Basbous family. Michel Basbous always dreamed of hosting international sculpture exchanges. After being apprenticed to him, Michel's two younger brothers, Alfred and Yusuf, as well as his son, Anachar, and four nephews -- Samil, Nabir, Sami and Tony -- all became professional sculptors.
The Basbous' act as hosts only so none of the family exhibit work in the sculpture park that showcases the 60 works that have been made by the invited artists during the last eight years of the symposium. The rest of Rachana village, though, is packed with sculptures, studios and even houses made by the Basbous family.
Day 2, Aug. 25:
Kata and I spend the day exploring Byblos. One of the oldest towns in the world, it has been inhabited for more than 7,000 years. Byblos became famous as a religious and cultural center after the Phoenicians colonized it in 3,000 B.C. We were intrigued by the layers of archaeological remains at Byblos, bearing witness to waves of colonization by major civilizations.
Day 3, Aug. 26:
En route to Tripoli, we stop at Moussalayha Castle, which used to defend the only land route between Beirut and Tripoli. Kata is inspired by the relationship between the building and its foundation, a limestone outcrop. It echoes the combination of organic and constructed form that he has imagined for the sculpture he will make here. I am fascinated by the castle's precarious balance and the elusive light from its archways and narrow windows that invite you to explore twisting spaces as well as highlighting views of the dramatic landscape. This provides me with a good opportunity to study how strong sunlight reflects on Lebanese limestone.
All civilizations have been fascinated by lunar, stellar and solar cycles, and light is an important symbol of inspiration and life in all cultures.
The sculpture I am planning to make here (titled "Under the Same Sky") will be two elements carved from one stone held together in a mutually supportive relationship to form a window that will catch ambient light. The way the two sides complement each other will change as the sun moves through the sky; the light will move on the surface like a dance, highlighting different perceptions of intercultural relationships.
Day 4, Aug. 27 :
The other artists -- Fabrizio Dieci from Italy, Mariano Andres Vilella from Spain and Yves Banchelin from France -- have arrived and the symposium officially starts today. My stone is 20 cm shorter than I asked for, so I spend most of the day adapting my idea to the different proportions.
Most Lebanese are fluent in French as well as Arabic, and many speak good English, but although all of the artists speak at least two European languages, there is no common language so communication is in a combination of English, French, Italian and Spanish.
Day 6, Aug. 29:
Mariano discovers a huge crack inside his stone, making it impossible to use. As he has to wait for a replacement block to be delivered tomorrow, he sets out to help Fabrizio.
As art can become isolated when restricted to the gallery system, the main attraction of a symposium is the chance to redevelop a sense of community. Exchanging technical, cultural and artistic experience while working on public art pieces is not only a research opportunity for the individual artists, but also an investment in the revival of art's function in society.
Day 7, Aug. 30:
We are getting used to large, and enthusiastic, groups of journalists and visitors from all over the world coming to watch us work. (There have been articles about us in Arabic, French and English.) Trying to explain my sculpture in different languages is actually helping me to articulate the final form.
Day 10, Sept. 3:
Having spent a week carving the external form of my sculpture, I start cutting the internal shape.
Day 11, Sept. 4:
Grand day out: Khalil Gibran Museum, The Cedars and Baalbek. We drive up along the edge of the long deep gorge of the Qadisha Valley, taking in stunning views of waterfalls, rock-carved tombs and monasteries, to Bcharre, the birthplace of Lebanon's most famous literary figure, Kahlil Gibran.
At the museum, I long to plunder the writer's bookshelves -- a fascinating collection of philosophical, cultural and religious texts from around the world -- in order to do some background research on the complex mosaic of Lebanese culture.
Then higher still to The Cedars -- all that is left of the huge forests, which once covered the mountains and made the cedars of Lebanon famous throughout the ancient world. (Many ancient Egyptian sarchophagi and the original Temple of Solomon in Jerusalem were built from this fragrant, durable wood). Although it will be centuries before they mature, new plantations of seedlings are now being established nearby to counteract millennia of deforestation.
At Baalbek, the sheer scale of the Roman ruins defies belief. The remaining columns from the Temple of Jupiter are the largest in the world, standing 22.9 meters high, with a girth of 2.2 meters. Below are the largest building blocks of stone used anywhere in the world, each weighing about 1,000 tons. The site survived earthquakes and successive civilizations well, but in the 19th century, the metal clamps and dowels holding blocks together were removed to make bullets, rendering all the structures vulnerable to tremors.
Day 13, Sept. 6:
We all finish our sculptures and stand them to see the final effect. Mariano and Fabrizio, the two Mediterranean artists, have used the strong sunshine in Lebanon very effectively. Both Yves and I are used to softer northern light -- our sculptures work well in changing daylight, but photographs do not catch their subtlety. Kata's combination of organic and analytical form reads well in this environment.
On this temporary exhibition site my sculpture is in the shadow of trees so does not catch the full morning and evening sun to bring the light inside the sculpture. When it is reset in the sculpture park next year in will have light from all directions in all seasons. My work looks dramatic lit at night.
Day 14, Sept. 7:
Today is the opening of the exhibition of completed sculptures, and the closing reception for the symposium.
Another dictionary definition of the word "symposium" is "a collection of views on one topic." It is interesting that although we all have very different artistic styles, we all ended up taking as our theme the relationship between man and nature, or between cultures, which gives the final exhibition a strong cohesive value.
Visitors and journalists from all religious and cultural backgrounds respond very positively to the work, and there is a sense of optimism in our conversation. Cultural coexistence and religious tolerance are not easy, but this kind of international exchange is a step toward greater understanding.
Day 16, Sept. 9:
We wrap up a two-day discussion on ideas for the 10th anniversary of the Rachana symposium next year. One of Rachana's unique qualities is the warmth and directness resulting from it being privately hosted by one family.
Kata and I are incredibly impressed by the wealth of Arabic culture and hospitality. We are invited to return to North Lebanon next year and have also been invited to join sculpture projects in Syria and Morocco in 2003.
For more information on the symposiums that Katagiri or Thomson have participated in, or a link to the Rachana International Sculpture Symposium, please visit the Ukishima Sculpture Studio Web site at www.ukishima.net
The Japan Times: Dec. 11, 2002
(C) All rights reserved