Dolls' surreal influence Kachina beliefs inspired Horst Antes
By KATE THOMSON
Special to The Japan Times
Kachina dolls, embodying the beliefs, social structure and moral values of the Native American Hopi have fascinated and inspired artists for a century.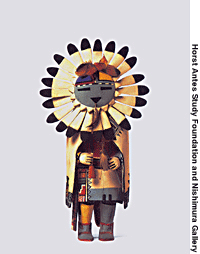 "Taawakatsina" (Sun Kachina) and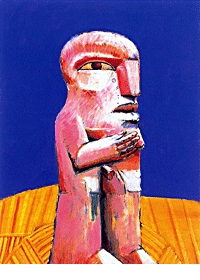 "Summer Figure" (1981)
Andre Breton, the founder of the surrealist movement, started collecting Kachinas in 1927 and established their place in the art world when he featured a Kachina on the poster for an exhibition of Surrealist objects in Paris in 1936. Many artists soon wished, in Breton's words, to "accede" to a newly discovered system of knowledge and cultural relationships: Max Ernst, Marcel Duchamp, Roberto Matta, Jorge Camacho and Harold and Louise Corbusier all owned Kachinas.
Horst Antes, one of Germany's best-known 20th-century artists, has spent a lifetime collecting hundreds of these mystical dolls. In "Horst Antes and Kachinas" currently at the Iwate Museum of Modern Art, a retrospective of Antes' painting and sculpture is shown in context with 79 Kachina dolls from Antes' definitive collection.
The Hopi have lived on a group of mesas in northeastern Arizona for more than 900 years, surviving battles with their Navajo neighbors and from 1629 Spanish invaders. This was followed by periods of drought, plagues of smallpox and the invasion of further European settlers from 1870. The Hopi gain their great tenacity from being strongly bound to one another and to their environment by their religion -- one aspect of which is the Kachina Cult.
Kachinas are, for the Hopi, the spirit essence of everything in the real world. They represent both real objects and supernatural forces. Animals, insects, plants, clouds, rain, ash, the sun, death and other peoples comprise a few of the roughly 300 Kachinas in the Hopi pantheon.
As it is not possible for humans to interact with Kachina spirits directly, Hopi men don Kachina masks and costumes. Once invested with the Kachina spirit, they participate in ceremonial dances that can only be watched by the initiated.
The men of the tribe carve the dolls from dried Cottonwood roots, primed with a coating of clay and painted with mineral pigments and vegetable dyes that invest them with a portion of the individual Kachina spirit's power. Hung from the walls or rafters of Hopi houses they are not playthings, but aids to teach children about their religion and place in society.
In accordance with Antes' stipulations, the exhibition opens with the Kachina dolls exhibited separately from his work. The forest of uniform glass cases comes alive when the viewer starts to explore the identity of each individual Kachina, which is depicted in striking color, intricate detail and with elaborate accessories made from leather, wood, fur, cloth, shell and feathers. A very palpable sense of presence emanates from those evidently carved with reverence by Kachina dedicants. They express a divine, mostly benevolent, sense of humor.
The second room introduces Antes' early abstract works. "Doubleportrait (Couple)" 1959, and "Small Red Figure," 1961, reflect the influence of Willem de Kooning and of Abstract Expressionism. But the affinity Antes felt when he first came across Kachinas in 1961 is also clear from the vibrant color and texture.
Antes writes in the exhibition catalog: "What captured me, inspired my work and opened the passage to the spiritual world of the Pueblo Indians in the beginning were the color, surface, and proportion of these dolls. However these were eventually replaced by iconography."
The figurative paintings and sculptures that follow are dominated by Antes' symbolic trademark "kopffussler" (literally, "head-footer") in which the legs are attached directly to a disproportionately large head in profile echoing the simple planklike form of the 19th-century Kachina dolls in his collection.
Although obviously more self-conscious than the Kachinas, several of these exert a powerful presence -- questioning the symbols we hold dear. Full of otherworldly dreams, the works gradually move further away from expressionism towards surreal imagery.
Antes writes in the catalog that "amidst the unstable situation of the universe, it is amazing how hard the Hopi try to live in harmony with nature. In order to produce what is most important to them, they concentrate and meditate over an extremely long period with immense attentiveness.
"It was such attitude and mental state that mattered to me. Thus in 1986, I came up with my first picture of a house."
Drawing on the influence of the Navajo as well as Hopi artefacts he collected, Antes' "House of the Navajo" series, painted in the 1980s, marks a distinct transition from figurative work to architectural shapes painted in thick slabs of black and color. This series also seems to encompass an idea common to both Hopi and Navajo, that it is the duty of the human race to preserve the Earth for future generations.
While the head could be said to contain and protect a person, a house contains and protects a family or a community. Antes' starkly simple, abstract houses have no doors or windows, hinting that through rationalism and utilitarianism we have lost access to the true sources of inspiration and spiritual sustenance. I felt these later works came closest to achieving the sophisticated synthesis of sensory perception and essential representation of the so-called "naive art" of the Hopi Kachinas.
"Horst Antes and Kachinas" is at the Iwate Museum of Modern Art, 12-3 Matsuhabe, Motomiya, Morioka, Iwate Prefecture; call (019) 658-1711 or visit www.ima.or.jp for more information. Also at Iwaki City Art Museum May 28 - 3 July and the Museum of Modern Art, Hayama, Kanagawa Prefecture, July 9 - Aug. 28. Kate Thomson welcomes comments at www.ukishima.net
The Japan Times: May 11, 2005