Joy of Making Sculpture
What to Make?
Always Looking for something. One is done. What's next?
Sometimes I get ideas in the bed still eyes closed in the early morning. Also I get more ideas while curving and polishing, as it takes long time.
How to Make?
Getting ideas is easy in away, but to make it is not necessarily easy.。
In order to make a sculpture you need to have a good understanding about the material, well equipped with a special tools, and also need a reasonably comfortable space.
By curving stone means you can not make mistakes, not like painting to be able to re-do again,
Flexible ideas on hard stone,
Great Studio
A studio for a sculptor- we do not call it atelier, should be a space filled up with high form of knowledge and wisdom in order to realise the idea.
Like a space ship traveling to mars.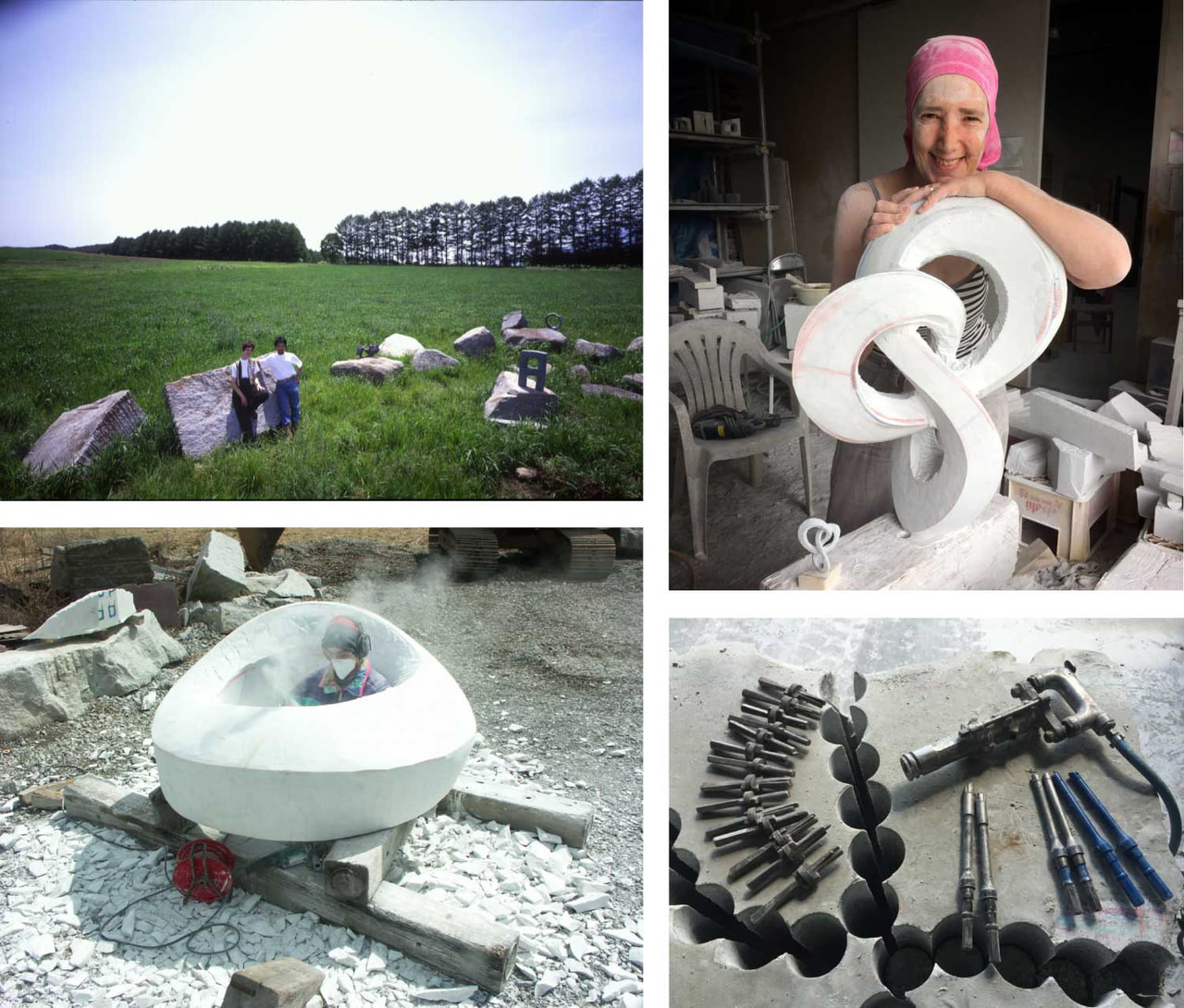 Private Work at Studio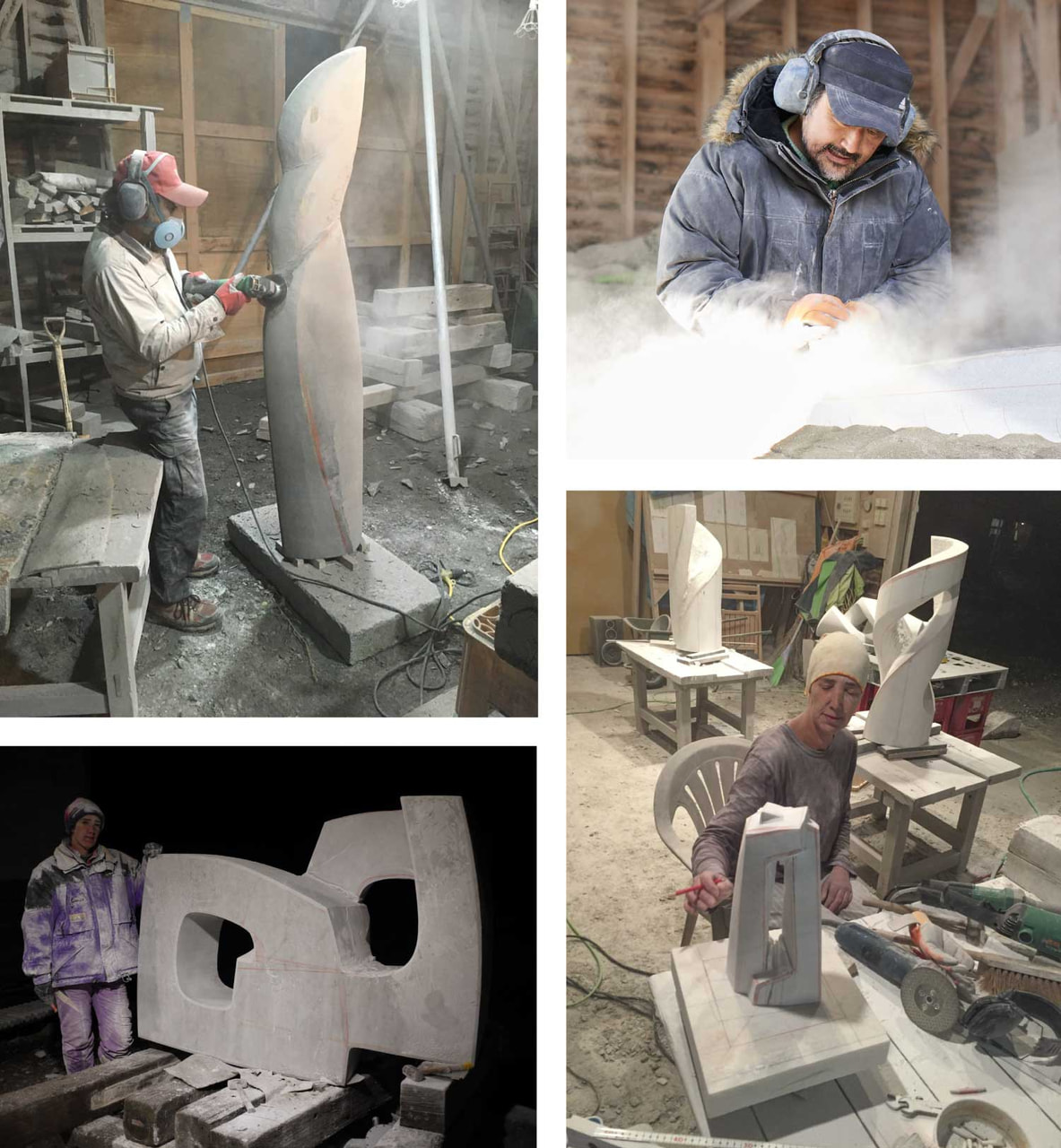 With a diamond cutter attached to the electric grinder, you can cut or curve it.
Lines that you can redraw and look at, erase and rewrite as many times as you like until you are satisfied.
The shape changes depending on the mood, and the work continues steadily.
Of course, the big ones are outside.
Even at mid-night or in the snow.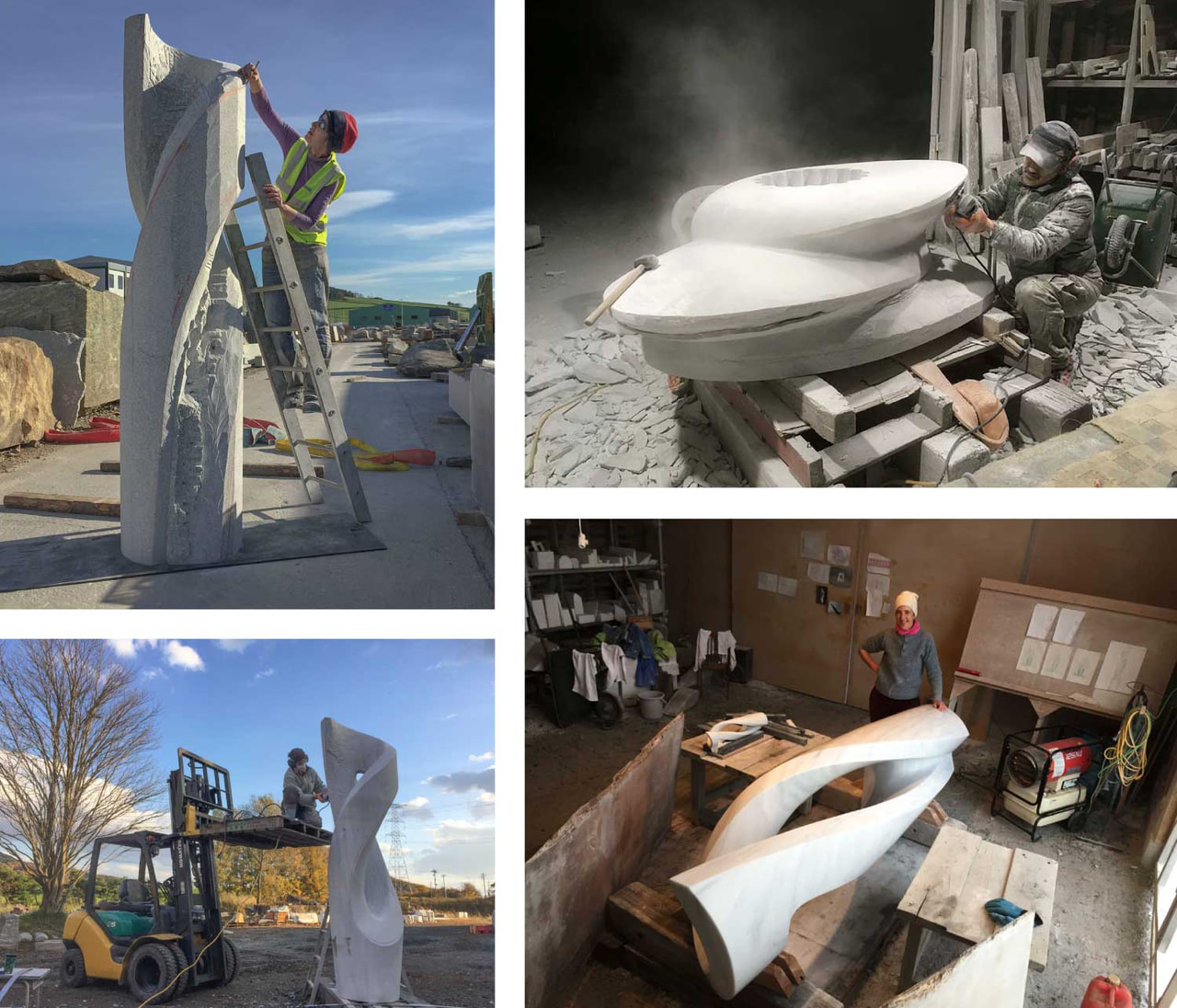 Public Commission
Apart from private work when we d the commission work, first we propose an idea sketch, and if necessary, make a model to discuss.
Once the plan is decided, we will calculate the structure and ask them to design and build a sturdy foundation so that it will not collapse even in the event of an big earthquake. After ordering the material, it may take 3 months at the earliest and 6 months for large ones to be cut out at the cut-off place.
In our case, the production period is about half a year to a year, whether it is large or small. I won't spend any more. Depending on the degree of work, the number of assistants will be increased, but if there are too many, the process management will change significantly. Basically, it would be better if I could take it easy on my own, but there is a deadline.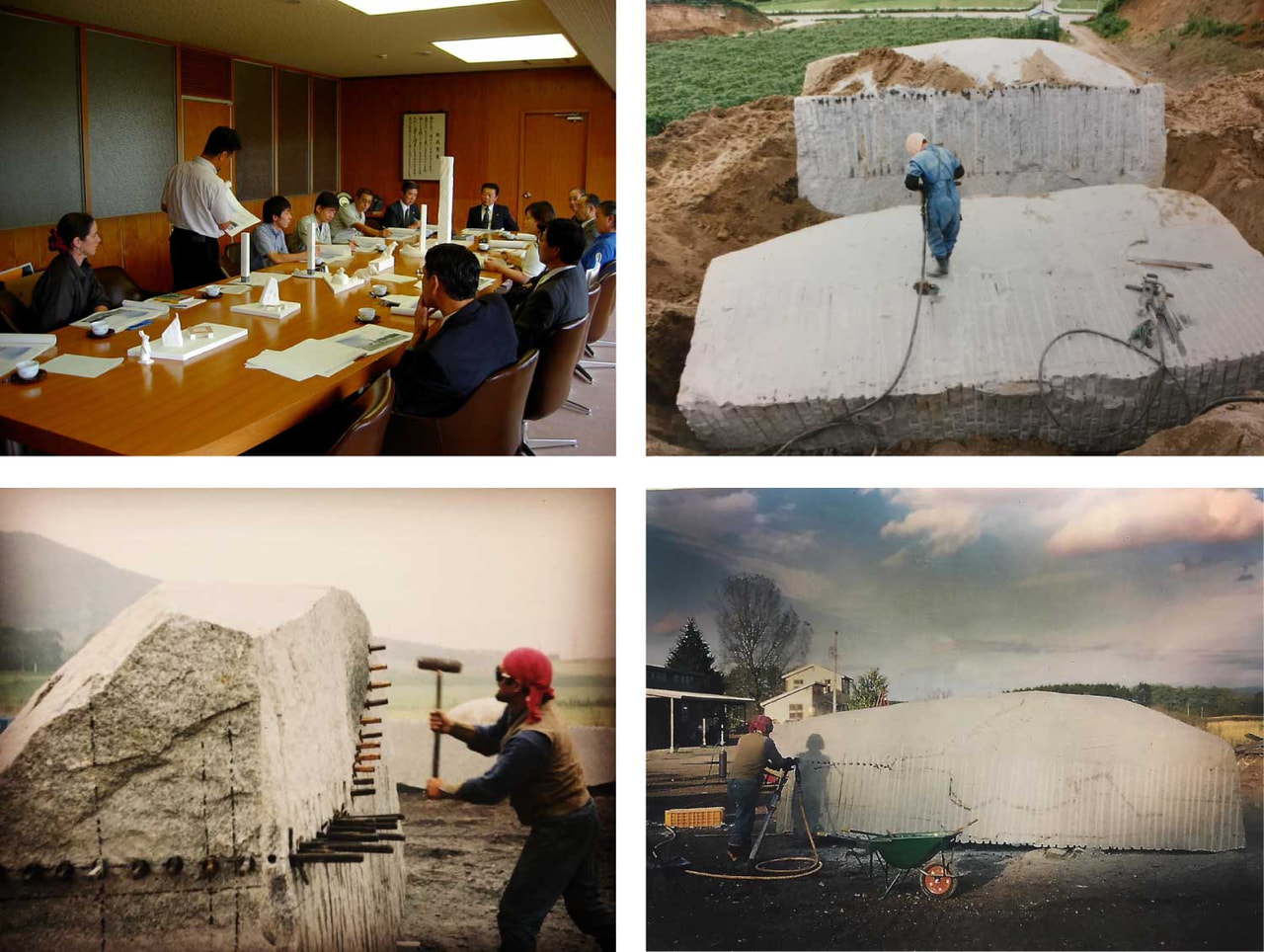 It is thrilling to make a big sculpture. I cut (carve) a huge block of stone, but of course, once I carve it, it cannot be restored. Failure is unacceptable. However, if you are timid for fear of failure, your work will not proceed. The work will never be completed. Imagine the shape that will be created, and aim for a line close to it. This moment is the same for Michelangelo and myself.
Experience and knowledge are important for making a drastic decision. Of course, accurate work is also required. Anyway, I feel that if I don't face each other with all my spirits, I'll be blown away. That's why making sculpture is a great fun.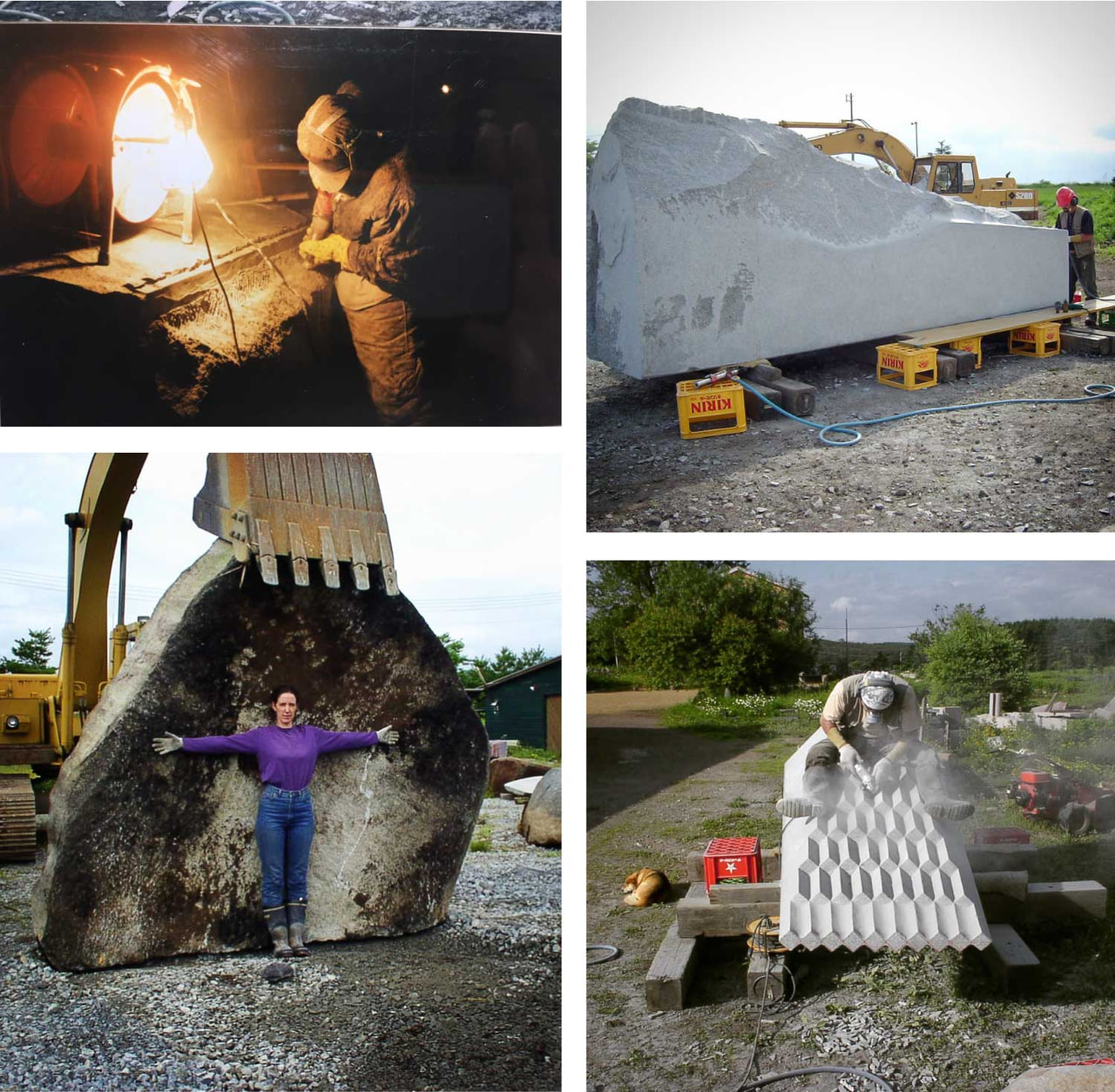 When the work is completed in the studio, take it to the site for installation work. It is loaded on a truck or a large 30t trailer, and the work is also lifted and installed using a large 100t crane. It's the most tense moment, but it's also the moment when you feel the adrenaline overflowing into your body as a giant stone dances in the air.
Even if it is the same sculpture, the impression is completely different when it is seen in the studio and when it is installed on site. The true value of your imagination is questioned as to whether or not you can achieve the image you envisioned as originally planned on paper.
That's why I can't stop sculpting.