Royal Glastgow Institute of Fine Art 154th OPEN annual exhibition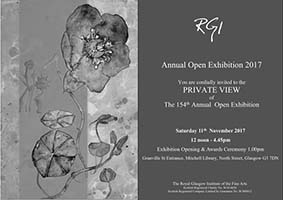 Invited artist, Royal Glastgow Institute of Fine Art 154th OPEN annual exhibition
| | |
| --- | --- |
| dates | Saturday 11th - 26th December 2017. |
| venue | Mitchell Library, Glasgow, G3 7DN. Scotland UK |
The Herald review;
https://www.heraldscotland.com/arts_ents/15662763.galleries-preview-of-the-154th-open-at-the-rgi/
Galleries: Preview of the 154th Open at the RGI By Jan Patience Arts writer
IF EVER an artwork summed up an exhibition it's James Cosgrove's Casting Studio. This painting depicts sea, mountains and buildings in the background while figures in the foreground jockey for position.
"The picture," says the artist, who lives on the Clyde Coast, is "constructed from half remembered incidents and shorthand drawings of imaginary situations."
Speaking personally, it put me in mind of movie mogul, Harvey Weinstein who is no stranger to the idea of a "casting studio" but according to Cosgrove, it "could be a word play on a foundry for the manufacture of sculpture or religious effigies, or maybe even an auditioning facility for aspiring performers."
As a former deputy director of the Glasgow School of Art as well as a director of House for an Art Lover on Glasgow's south side, Cosgrove knows all about inflated egos and fragile psyches.
Ever the glutton for punishment, this year he was "chief hanger" of the Royal Glasgow Institute of the Fine Arts (RGI) annual open exhibition. In this role, Cosgrove faced the the monumental challenge of leading a small team of artist selectors and working out the jigsaw puzzle that is positioning 400 individual works of art in the Mitchell Library's Baillie Reading Room. This large public room on the second floor of the library is, not to put too fine a point on it, an unsympathetic space for showing artwork.
The team also had to work the white display panel maze around an eye-popping carpet built to last by Glasgow-based carpet manufacturers Templeton's.
You can't really escape the carpet. In certain works, such as Marion Archibald's snake-like artist book, All In the Mind – Most of the Unsolicited Junk Mail I've Received Since 1st of March 2015, the artwork echoes the twists and turns of the carpet in a psychedelic assault on the senses.
Carpet aside, there is a feast of fine art on display at the RGI's 154th open annual exhibition; a show which traditionally tends to favour mediums such as drawing, painting, printmaking and photography
According to Cosgrove, the small team of artists who selected and arranged the work, were conscious of making a statement about the many and varied ways in which contemporary artists approach making art. "We also wanted to address gender balance when it came to inviting artists," he explains. "To this end we invited 13 artists to explore this through the methods and intention which underpin the production of artworks. We also invited The Glasgow Women's Library, now in its 26th year to take part."
As you enter the exhibition, in a room not unlike an airport departure lounge, there is a large Kate Downie painting called Pudong – The Brain. A plane sits waiting on the tarmac in bright Chinese sunshine. Downie is a master draftswoman and she somehow invokes a spirit of suspense and drama in this everyday airport scene.
The invited artists – including Downie – do not disappoint. Sam Ainsley, an influential and nurturing figure in the education of generations of artists during a long career with the Glasgow School of Art is experiencing a resurgence of her own career. More power to her elbow as she continues to map her life and the world around her using a distinctive visual language which is a puzzle and entrancing at the same time.
Joyce Cairns is another female artist who deserves to be better known. In works such as Cher Ami and Martin Puch, the sense of underlying menace in a seemingly joyous setting keeps you guessing long after you leave the room.
During a trip to the annual Spring Fling open studios event in Dumfries and Galloway Cosgrove stumbled across the work of Fergus Hall, the artist behind the paintings of Tarot Cards in the 1973 Bond film Live and Let Die. "Fergus' work hasn't been shown widely in recent years but I was keen to invite him to make a new work for this year's RGI exhibition," Cosgrove explains. The resulting painting, A Journey across the deep Unknown is both lyrical and fantastical.
Other invited artists include; Lindsay Taylor, a printed textiles designer who uses traditional techniques to construct and embroider panels and Nigel Hurlston, who makes large digital photographs using layers of machine embroidery to achieve a layered finish.
Bronwen Sleigh, Delia Baxter, Anna S.King and Susan Wilson all provide challenging new work from printmaking and drawing to Artist Books using unconventional materials. Eileen Hogan's study of the artist and poet, Ian Hamilton Finlay in his Roman Garden in Little Sparta is a compilation of large sketches made on site. Sculpture is represented by Michael Viscochi's sprawling raised landscape, The Wild Wood while Japanese artist, Hironori Katagiri is showing two beautiful carved black pieces from his Tokyo Studio. The Glasgow Women's Library is showcased with works by the likes of Kate Davis and Lucy Scaer.
Influential teachers and artists Philip Reeves and Robin Hume, both died in the last year. These elected RGIs, are represented and remembered in the course of the exhibition. Hume, primarily known as a sculptor, turned to painting in later life and boy could he draw and paint, as shown by the likes of The Man In Armour.
This snapshot of the RGI "annual" doesn't include hundreds of cracking paintings and sculptural works on show in The Mitchell. A goodly proportion of the work is for sale and if you are looking to buy an original work of art then come and browse. Carpet aside, it's a much more calming – and uplifting – experience than being on the high street with its Insta-imagery on sale at inflated prices.
The Royal Glasgow Institute of the Fine Arts, 154th Open Annual Exhibition, The Mitchell, Granville Street, Glasgow, G3 7DN, theroyalglasgowinstituteofthefinearts.co.uk, 11- 26 November
CRITIC'S CHOICE
As the late great Maya Angelou wrote, "there is no greater agony than bearing an untold story inside of you."
This sentiment from Angelou, a civil rights activist as well as a writer, is writ large in the work of Zanele Muholi. In the publication which accompanies a powerful exhibition of Muholi's work at the Glasgow School of Art – her first in Scotland – the South African "visual activist" states that her work "looks mainly at black resistance, existence, as well as insistence."
Curated by Renée Mussai and presented by Autograph ABP, the body of work on show at the GSA's Reid Building sees Muholi confront the politics of race and gender politics in her ongoing self-portrait series Somnyama Ngonyama.
The exhibition's title is a challenge from the outset. Somnyama Ngonyama translates from Muholi's mother tongue of IsiZulu (one of the eleven official languages in South Africa) as Hail the Dark Lioness. Using her own language to describe work which mainly focuses on Muholi's own face and body is a declaration of intent.
Just as Muholi stares out at the viewer in self-portrait after self-portrait, so the viewer is forced to look at at themselves and their own preconceptions. In all the portraits, even the ones which look like landscapes, such as Bhekisisa, Sakouli beach, Mayotte, 2016, in which you are forced to find Muholi's naked body in among the rocks, the props, objects and materials are an integral part of the story.
Nothing is black and white in Muholi's story as she explores stereotypes and historical notions of beauty and contemporary fashion photography. She is wholly inspired by personal experience as a gay woman living in less-than-tolerant South Africa, as well as socio-political events.
Her photographs are uncomfortable to look at while being beguiling and beautiful at the same time, with allusions to the likes of Vermeer's 17th century oil painting, Girl with a Pearl Earring. But dig deeper and Muholi's head, always held high, is swathed in the inner tubes of a tyre or in a miner's helmet.
Accessories such as cowrie shells or beads highlight Western society's ongoing fascination with clichéd representations of African cultures and people as well as the global economies of migration, commerce and labour.
Taken mainly in Europe, North America and Africa between 2014 and 2016, each portrait poses questions about social justice, human rights and contested representations of the black body. Politics aside, it is also beautiful.
Zanele Muholi Somnyama Ngonyama, Hail the Dark Lioness, Glasgow School of Art, Reid Building, 164 Renfrew St, Glasgow G3 6RQ, gsa.ac.uk/life/gsa-events/events/s/somnyama-ngonyama-hail-the-dark-lioness/ Until 17 December
DON'T MISS
In life and in art, less is more. One woman who knew all about that was Louise Bourgeois. This tiny French-born powerhouse of an artist died aged 98 in 2010 in her adopted home of New York and she continues to attract a growing army of admirers for her hard-hitting feminist-leaning art which leaves no stone unturned in examining what it is to be female. There's just ten works by Bourgeois in this Tate Artist Rooms show devoted at Perth Museum and Art Gallery but they are ten works which deserve time and contemplation. Bourgeois themes scream isolation, abandonment, childhood trauma and vulnerability. For all that, they are mysterious and beautiful.
ARTIST ROOMS: Louise Bourgeois, Perth Museum and Art Gallery, 78 George St, Perth PH1 5LB, artistrooms.org/rooms/louise-bourgeois-perth, Ends today