"Lyrical Abstraction - Sculptures by Kate Thomson and Hironori Katagri-" at tMellerstain House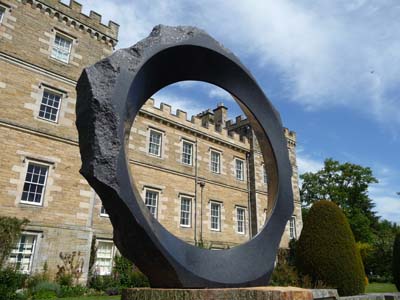 Mellerstain House, Gordon, Berwickshire, Scotland, TD3 6LG
Open JUNE Sundays & Wednesdays 12.30pm - 5
Open JULY & AUGUST Sundays, Mondays, Wednesdays & Thursdays 12.30pm - 5pm
September Sundays, Wednesdays & Bank Holiday Mondays 12.30 - 4.15pm (or by appointment)
The Countess of Haddington is glad to show people round the Gallery if they are unable to visit at normal house-opening times, contact: jane.haddinton@btinternet.com.
THE SCOTTISH GALLERY, 16 Dundas Street, Edinburgh EH3 6HZ 0131 558 1200
mail@scottish-gallery.co.uk, www.scottish-gallery.co.uk
"Lyrical Abstraction" and "Lyrical Abstraction 2" are Japan UK 150 events, and are supported by The Binks Trust, The Daiwa Anglo Japanese Foundation and the Hope Scott Trust
place
Mellerstain House
Mellerstain House, Gorden, Berwickshire, Scotland, TD3 6LG
date
14th.June- 30th.September 2009
Private Views: Friday 12 June 6.30pm - 8.30pm
to be officially opened by the Japanese Consul General, Mr Kenichi Suganuma
and Saturday 13 June 11am - 2pm
"Lyrical Abstraction- Sculptures by Kate Thomson and Hironori Katagri"
An exhibition of contemporary abstract stone sculpture by British sculptor Kate Thomson and Japanese sculptor Hironori Katagiri in the exquisite interiors and gardens of Mellerstain House designed by Robert Adam, and Charles Rennie McKintosh's iconic Hill House in Glasgow. The work of this married couple, who have been living and working in Japan for the last 20 years, shows a unique cultural synergy of complementary yet very individual approaches. While Kate Thomson explores sculpture as language and philosophy to create a tactile poetry of space, form and light in marble;
Hironori Katagiri`s black granite abstract forms have a spirituality shining out from the inner essence of the material like the glint of a Japanese sword. The two venues represent two of Scotland's most famous architects, and provide ideal spaces to illustrate the Scottish and Japanese cultural and aesthetic contexts and influences on these two internationally renowned sculptors who's stunning contemporary sculpture highlights how the architecture of both Robert Adam and Charles Rennie McKintosh retain their innovative beauty and are still relevant to the modern world.