"Exhibition of Stone Sculptures and Drawings" Hironori Katagiri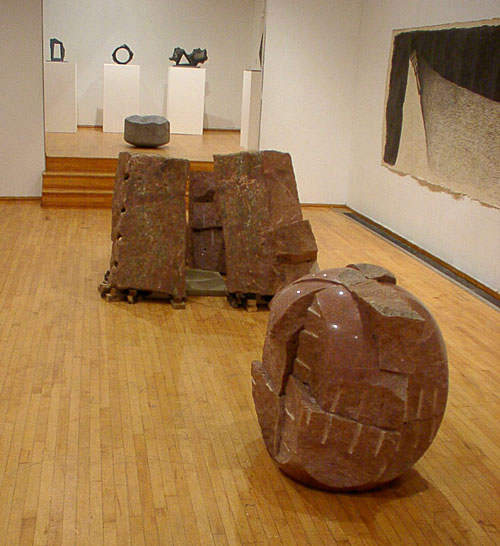 | | |
| --- | --- |
| place | Peacock Visuall Arts, Aberdeen, Scotland, UK |
| date | 4th.August - 8th.September, 2001 |
As part of its contribution to the Japan 2001 Festival, the Scottish Sculpture Workshop is co-ordinating a touring exhibition and residency to acknowledge the work of Japanese sculptor Hironori Katagiri and the important role he has played in developing a productive relationship between Scottish and Japanese artists. Although Katagiri has exhibited widely, and worked on public commissions and sculpture symposia throughout Europe and Japan, this will be his first solo exhibition in Britain Exhibition of Stone Sculptures and Drawings 1st - 8th June 2001 Jock Colville Hall, Churchill College, Cambridge University.
Katagiri`s lyrical work provides an insight into contemporary Japanese culture, and his unique expertise in stone carving highlights the traditional Japanese concern for an extremely high level of craftsmanship.
Stone Carving Residency 12th ミ 2nd Aug. 2001 Scottish Sculpture Workshop, Lumsden, Aberdeenshire http://www.ssw.org.uk/
Artists and students working at SSW will be able to observe this contemporary Japanese master working on new sculpture for his exhibition at the Peacock Gallery. Katagiri will visit local Primary and Secondary Schools and give a public slide lecture.
Exhibition of Stone Sculptures and Drawings 4th Aug. - 1st Sept. 2001 Peacock Gallery, Aberdeen.
This exhibition will act as the conclusion of Katagiri`s Japan 2001 project. The work made during a 3 month residency at Edinburgh College of Art in Spring 2000, and at the Scottish Sculpture Workshop in July 2001, will provide a dual reference for an understanding of the technical, artistic and cultural elements of Katagiriユs creative processes. "Hironori Katagiri is a Japanese sculptor whose relationship with Britain, and Scotland in particular, has had a huge impact on his professional and personal life.
While working in Austria (where he was an organiser and artist in the influential Lindabrunn International Sculpture Symposium near Vienna) Katagiri visited Britain in 1983 and met Frederick Bushe, Founder of the Scottish Sculpture Workshop (SSW). He was impressed by Fred`s enthusiasm, the dramatic landscape of Aberdeenshire and the open attitude of the artists there, and worked at SSW every winter from 1983 - 87.
The first Japanese artist to work at SSW, he helped establish the stone carving facilities which have been of tremendous value to artists from all over the world, including the many Japanese artists he has introduced to the workshop.
Katagiri became an active member of the arts community in Scotland: Technical Director for the Aberdeen Young Artists` Festival Sculpture Symposium held at SSW; an adviser to the Scottish Sculpture Trust; a member of the Sculpture Advisory Group for the Glasgow Garden Festival; a founder member of the Glasgow Sculpture Studios; Technical Director of the College Lands Sandstone carving project in Glasgow. He has also lectured in several UK art schools. He received the Latimer Award for his sculpture exhibited at the Royal Scottish Academy, Edinburgh in 1988.
In 1991 Katagiri married the Scottish sculptor Kate Thomson (met at SSW during the 1987 Lumsden International Sculpture Symposium), and the couple moved to Iwate Japan where they established Ukishima Sculpture Studio http://www1.linkclub.or.jp/~ukishima/index.e.html.
When the UK98 Festival was held in Japan, Thomson and Katagiri organised the highly successful Iwate Art Festival UK98 introducing over 250 art works by more than 80 British artists (representing the sculpture and printmaking workshops and major art schools in Scotland) to the northern region of Japan. (Among many other initiatives they were also instrumental in introducing the eminent British architect Richard Murphy to Japanese architects Wakamatsu & Roppongi to collaborate on the design of the new Ishigami-no-Oka museum in Iwate, which will be completed next year.)
Both Peacock Printmakers and SSW were main contributors to the Iwate Art Festival UK98 and feel that this project is an ideal chance to further promote the good relations Katagiri has helped to develop with Japan."