"Turning Tide: 30 Years Of Ukishima Sculpture Studio" exhibition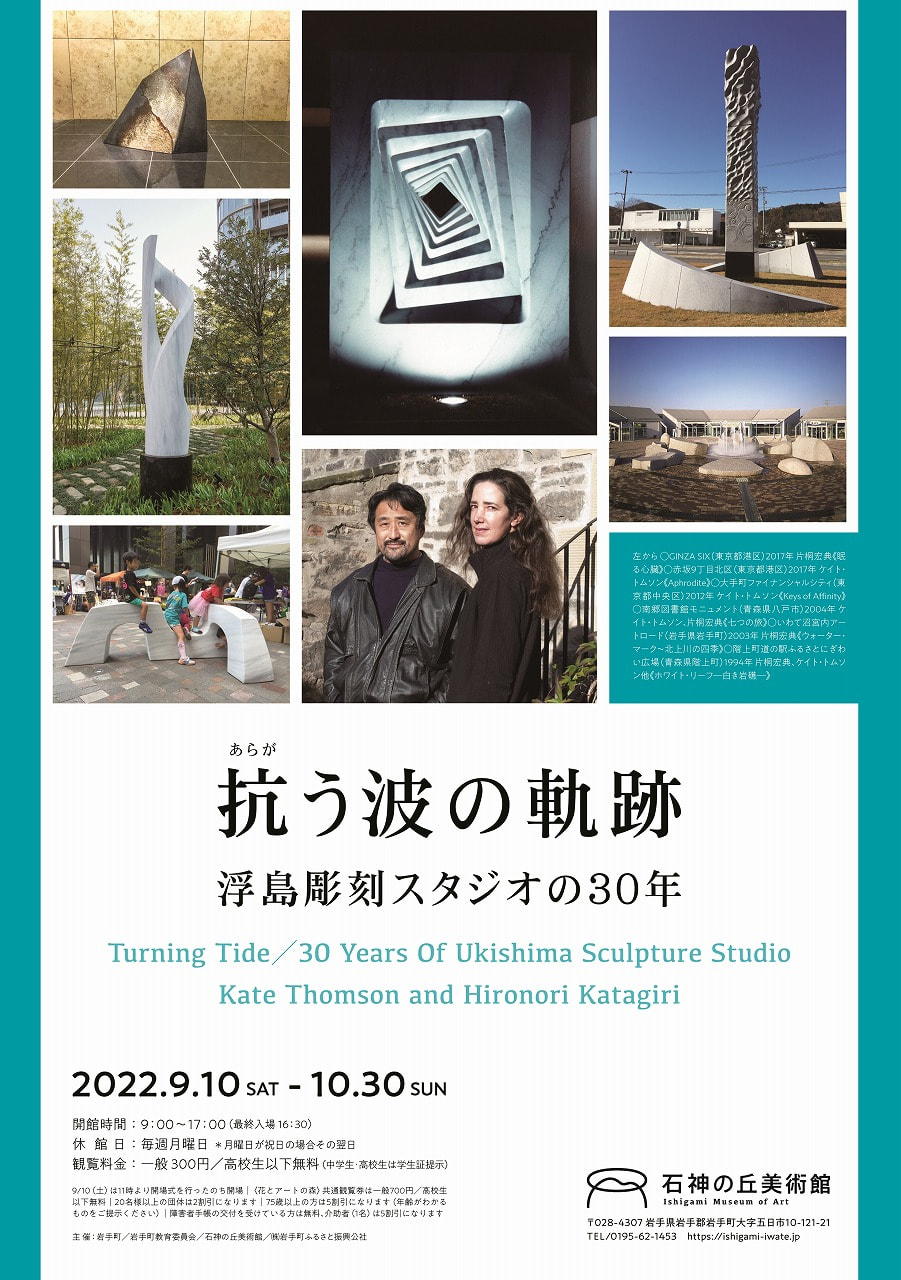 Turing Tide / 
30 YEARS OF UKISHIMA SCULPTURE STUDIO
KATE THOMSON AND HIRONORI KATAGIRI
Date: September 10th to October 30th, 2022 (50 days)
Venue: Ishigami no Oka Museum Gallery, and Flower and Sculpture Area
Hironori Katagiri and Kate Thomson established Ukishima Sculpture Studio in 1991 in Ukishima, Iwate, Iwate Prefecture.
In addition to continuing to produce works individually, they have been jointly involved in the production and installation of works related to public places, public art, and holding art projects.
To celebrate the 30th anniversary of Ukishima Sculpture Studio we will exhibit works and materials in the project gallery and in the 'Flower and Art Forest' area of the outdoor sculpture park, and look back on the achievements so far.
********************************
"Turning Tide / 30 years of Ukishima Sculpture Studio" exhibition
September 10th (Sat) to October 30th (Sun), 2022
Opening hours: 9:00-17:00 (Last entry 16:30)
     ・On 9/10, the venue will open after the opening ceremony at 11:00
Closed: Mondays (following day if Monday is a national holiday)
Admission fee: 300 yen for general admission (700 yen for flower and art park combined ticket)
Free for high school students and younger
     ・Junior high and high school students, please show your student ID card
     ・20% off for groups of 20 or more
     ・50% discount for those over 75 years old (please show proof of age)
     ・Free for those with a disability certificate, 50% discount for one caregiver
Organised by: Iwate Town / Iwate Town Board of Education / Ishigami no Oka Art Museum / Iwate Town Hometown Promotion Corporation
Ishigami Museum Of Art
10-121-21 Itsukaichi, Iwate-town, Iwate-gun, Iwate-prefecture, 028-4307JAPAN
 TEL:+81 (0)195-62-1453
********************************
[Related events]
① Scottish bagpipe performance
Date and time: Saturday, September 10, 2022, from 15:00 (about 30 minutes)
Venue: South plaza in front of the museum Free admission
Contents: Performance by Gerald Muirhead
   
Performer: Gerald Muirhead
Gerald Muirhead was born and raised in Edinburgh, Scotland. He studied orthodox Highland bagpipe under Angus McDonald, Principal Pipe Band of Edinburgh Castle, and further honed his skills with the Royal Scots Dragoon Guards, Scotland's finest. He lives in Japan.
② Collaboration of sculpture and dance
Date: September 11, 2022 (Sunday) 11:00-/14:00- (15 minutes each time)
Venue: Gallery, Reservation not required/ticket required
Dancer: Asaki Kuryu
Asaki Kuryu
Born in Hachinohe City, Aomori Prefecture. She started modern ballet at the age of 3, and classical ballet at the age of 10 at Schuenemann Junna Rikimaru Ballet Studio. From 2011 to 2014 she studied at the Nuremberg Ballet Academy in Germany. After graduating, from 2014-2015 she joined the Cinebox Junior Company in Switzerland and participated in a European performance tour. After leaving the Junior Company, she participated in a project in Liechtenstein as a company member, and in 2016 she joined the Deer Junior Company in the Netherlands. She then joined the Budapest Dance Theatre in Hungary from 2016 to 2018, and then returned to Japan. She currently works as a freelance dancer based in Aomori.

③ Sculpture tour with the artists
Date and time: Sunday, September 18, 2022 Course ① 10:30-12:00 Course ② 13:30-16:00
Course 1: Visit the Ishigami no Oka Museum: No application required; common viewing ticket required
While listening to Mr. Hironori Katagiri and Ms. Kate Thomson, the gallery of museum planning
We will appreciate the works of Lee & Hana to Art no Mori.
  
Course 2: Visiting Iwate-cho and Ukishima Sculpture Studio: Pre-registration required;first 10 people
Depart from the museum, appreciate works in Iwate Numakunai Station and the town, and visit Ukishima Sculpture Studio. We will prepare a vehicle for transport, but there is a 15-minute walk during the tour.      
*Applications will be accepted from 9:00 am on September 1st (Thursday).
Please apply directly at the museum reception or by phone (TEL0195-62-1453). Participation fee 500 yen

④ Parent & child workshop
Date: October 8, 2022 (Sat) 10:00-12:00
Venue: Hall
Pre-registration required / First 5 groups of parents and children above junior high school age
Contents: Kate Thomson and Hironori Katagiri will show how to create three-dimensional works with paper.
*Applications will be accepted from 9:00 am on September 1st (Thursday).
Please apply directly at the museum reception or by phone (TEL0195-62-1453). Participation fee free