T O H O K U - S C O T L A N D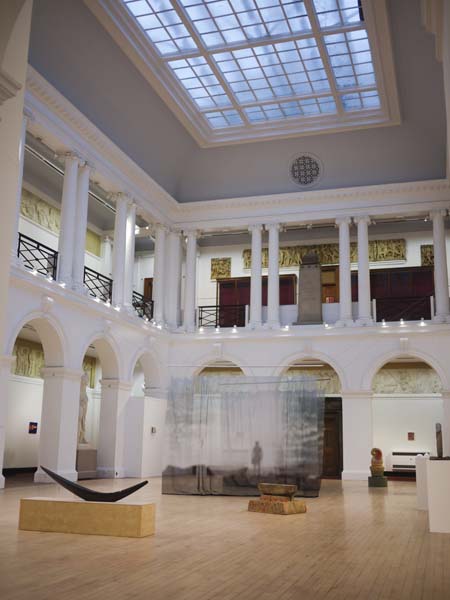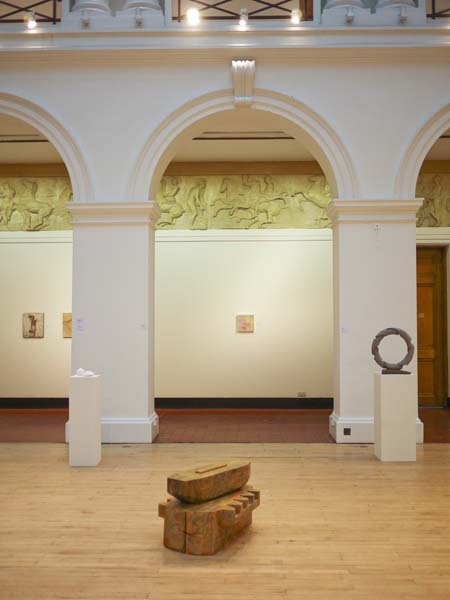 An exhibition of sculptures, paintings, prints, collages and film by 32 artists from Tohoku (Northeastern Japan) and Scotland
Supporting the post tsunami recovery in Tohoku by encouraging local artists and their communities, whilst developing cultural links between Scotland, the UK and Japan. Produced by Kate Thomson & Hironori Katagiri of Ukishima Sculpture Studio, and David Moore, Head of Sculpture, Edinburgh College of Art, University of Edinburgh
date
18th - 25th October 2011
venue
the Sculpture Court, Edinburgh College of Art, Lauriston Place, Edinburgh, EH3 9DF Scotland, UK
artists
Scottish artists;
the Boyle Family, John Hunter, David Mach, Bill Scott, Kate Davis and David Moore, Elspeth Lamb, Jacki Parry, John Taylor, Keith Rand, Peter Bevan, Campbell Sandilands.
Tohoku artists;
Hisashi Momose, Takeshi Honda, Shigenobu Yoshida, Shinichi Mori, Sumiko Sawamura, Kenta Motomura, Megumi Honda, Minako Ishikawa, Fumiaki Aono, Sachiko Hayasaka, Eiji Kido, Osamu Kouke, Hironori Katagiri, Kate Thomson, Takuya Okada, Kazue Sato, Saiko Sato, Aeneas Wilder, Yoshitomo Saito, Takuya Onozaki,
Opening event on 17th October: from 5:30 to 8pm
6pm Official Opening: Mr Masataka Tarahara, Consul General of Japan, and Professor Chris Breward Principal of Edinburgh College of Art will officially open the exhibition 6:20pm Exhibition catalogue launch: Hironori Katagiri and Kate Thomson will thank Mr Tarahara Professor Breward & all the participating artists and briefly introduce the 76 page full colour catalogue.
6:30 - 7pm Special Flash Choir Performance: The over 100 strong InChorus, Lothian and Borders Police Choir and Tayside Police Choir will debut their ìmusical Postcard to Japaní during the opening reception, with a ìflash choirî appearing from among the guests & around the building.
Special thanks to Edinburgh College of Art and our sponsors: Sir Gerald and Lady Elliot, Club 8 Studio Morioka Inc., Atelier Nord Inc., Japan Society & Japan Foundation
Background:
Described as a thousand year event it will take years for Tohoku (northeastern Japan) and its people to recover from the ëGreat Northeast Japan Earthquakeí and subsequent tsunami and nuclear disaster. The dignity of the Japanese response inspired the world. This exhibition aims to continue to inspire the international community and give some inspiration back to the people of Tohoku.
Exhibition: sculpture, paintings, prints, collages & film by 32 artists from Tohoku and Scotland. All the artists are of international standing, including world famous Hisashi Momose, the Boyle Family, David Mach, and Bill Scott (President of the Royal Scottish Academy). They have all made beautiful and poignant works that give insight into the grace and resilience of the Japanese spirit, show empathy between two cultures, and seek harmony with our environment and nature. NB 18 Japanese artists, 2 Scottish artists who are based in Edinburgh and Tohoku, and 11 Scottish artists who are based around the UK.
Art and culture are even more vital in such a time of deep shock. All the artists are showing pieces that discuss issues raised by the March 11th disaster and the ongoing aftermath. They articulate emotional, social and environmental issues that need to be dealt with in Tohoku and are relevant to everyone around the world. Life is wonderful and fragile. Nature gives us all we require to live and we underestimate its need to release its pent up power at our peril. The wonderful range of work in this exhibition all celebrates life.
For several of the artists from Tohoku this project has been a catalyst to make new work for the first time since the disaster. Despite incredible adversity they have made profound and beautiful work for the exhibition.
The Scottish artists in this exhibition took part in the Iwate Art Festival UK98 (IAF UK98) we organised in 1998 to celebrate the strong affinity between Tohoku and Scotland (see note below). We are hoping this exhibition will reaffirm and refresh connections made then and forge new links in order to stimulate bilateral dialogue on ways we can look to the future together.
The producers: This is the second in a series of exhibitions Kate Thomson and Hironori Katagiri (who were working in Tohoku when the disaster struck) have been voluntarily organising to support recovery in Tohoku by encouraging local artists and their communities, and developing international cultural links. (Please see next page and www.ukishima.net for more information on 2 other projects: ìPostcards TO Japanî and Postcards from Japanî.) David Moore has been working with them since April to realise the ìTOHOKU ñ SCOTLANDî exhibition.
InChorus, Lothian and Borders Police Choir and Tayside Police Choir Kate Thomson and Hironori Katagiri met representatives of the three choirs when they were all being interviewed on BBC Radio Scotlandís Culture CafÈ on 30th September 2011. They were fascinated by each others stories and while chatting outside the studio came up with the plan for a ìmusical Postcard to Japanî to be recorded at the opening of ìTOHOKU ñ SCOTLANDî. (Please see over for more on InChorus.)
Venue:
The Sculpture Court is one of Edinburghís most beautiful and prestigious venues (NB. The producers of the exhibition Kate Thomson and Hironori Katagiri held their wedding party in the Sculpture Court 20 years ago.)

Iwate Art Festival UK98 in 1998 exhibited over 200 works by over 80 Scottish artists in 8 galleries and museums across Iwate, in Northeastern Japan. Connections made through IAF UK98 led to many other exhibitions, residencies and opportunities for artists from both countries in Japan and the UK (from grass roots projects to a major exhibition in the National Museum of Scotland.
InChorus, Lothian and Borders Police Choir and Tayside Police Choir.
The choir singing at the opening of ìTOHOKU - SCOTLANDî on 17th October & making the musical ìPostcard to Japanî is drawn from three Scottish Choirs who have performed at the National Gallery, the Edinburgh Mela Festival, on radio and television, The Scottish Parliament as well as staging their own concerts at various venues. Last month they travelled together to New York to represent Scotland at the 10th anniversary of 9/11. There they drew large crowds at several key memorial events, as well as flash choirs in some well-known locations including Times Square and Central Park. The choirs also recorded and presented to America their unique Gift Song, a combination of The Star Spangled Banner and Amazing Grace, which can be viewed on youtube.
www.inchorus.org.uk
www.lbp.police.uk/choir
A 72 page full colour catalogue "TOHOKU - SCOTLAND" is available for £10 .
£ 10 for 1 copy + postage
All the art works are for sale: 40% of any sales will be donated by the artists to support projects with Tohoku artists working towards recovery in the regions devastated by the ëGreat East Japan Earthquakeí and subsequent tsunami and nuclear disaster; as will 100% of any benefit from sales of the catalogue††This is a rare opportunity to buy work from some of Tohoku and Scotlandís top artists.